Control components
E5_C
E5_C Compact and intelligent general-purpose controllers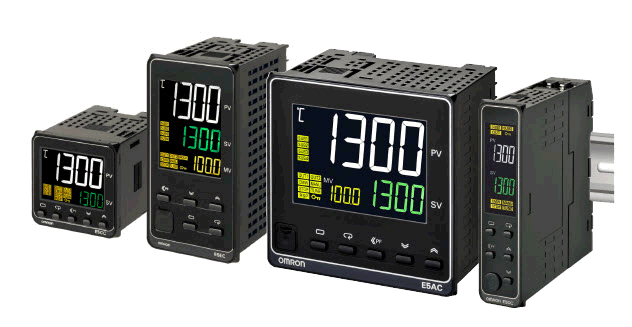 Omron next generation E5_C temperature controller series is setting a new standard in terms of regulation performance easy set-up and outstanding visibility. With 3 (4) AUX outputs on board and other useful features, these slim case controllers (depth = 60mm) are fit for purpose.
Easy to set-up without power supply and operate intuitively via CX-Thermo software
Fast and precise regulation: 50ms sampling loop period time
Best contrast display using white LCD technology which is visible from a far distance and from any angle
Useful alarm and diagnosis functions for secure operations 
E5CSV-Temperature Controllers
The easy way to perfect temperature control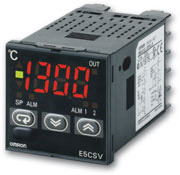 This multi-range 1/16 DIN controller with alarm function offers field-selectable PID control or ON/OFF control. The large, single display shows process value, direction of deviation from set point, output and alarm status.
All setting field configurable with switches
Multi-input (Thermocouple/Pt100)
Clearly visible 3.5-digit display with character height of 13.5mm
Control output: relay, voltage (for driving SSR)
ON/OFF or 2-PID control with auto-tuning and self-tuning
Advanced Digital Temperature Controller
E5AN-H/E5EN-H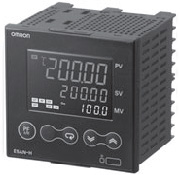 A New High-performance Controller:
High Resolution, High Speed, and High Input Accuracy.
With Logic Operations and preventive maintenance functions.
Plus Infrared Port on Front Panel.
High-resolution display with 5 digits/0.01°C display.
High-speed sampling cycle of 60 ms.
High Accuracy Thermocouple/Pt input: ±0.1% of PV Analog input: ±0.1% FS
Universal inputs on all models (thermocouple, PT, analog) to handle various sensors with one Controller. Models also available with Remote SP.
A PV/SV-status display function can be set to displaying the PV or SV and the status of the Temperature Controller (auto/manual, RUN/STOP and alarms).
Flexible contact outputs with logic operations (AND, OR, and delays) set from the Support Software (CX-Thermo Ver. 4.0)
Preventive maintenance for relays using a Control Output ON/OFF Counter.
Model available with position-proportional control
OMRON COMPACT POWER SUPPLIES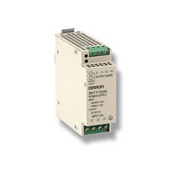 Omron is a leading manufacturer of compact power supplies.