Sensing
E3Z
COMPACT SQUARE PHOTO SENSORS
Compact housing size and high power LED for excellent performance-size ratio
IP67 and IP69k for highest protection in wet environments.
Available in diffuse, retro-reflective ,transmitter and receiver models.
E3JK
ALL VOLTAGE PHOTO SENSORS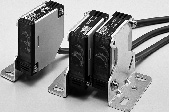 Built-in amplifier accepts wide supply voltage range.
Slim, space-saving construction measures only 50 x 50 x 17.4 mm.
Relay outputs with long life expectancy and high switching capacity (3 A,250 V AC).
Polarized retro reflective type available for glossy or shiny object detection.
E3G
Photoelectric switch with built-in amplifier (long distance)

Retro reflective .Diffuse , transmitter and receiver models
Sensing Distance of 10 m, with polarized light to detect shiny objects.
Operation stability monitored by thestability indicator.
Distance-setting Models
Distance setting models with a long 2 m sensing distance incorporate a teaching function.
Set sensing area (zone setting) function allows detection of shiny objects with uneven surface.
Common Features
Meets IEC IP67 requirements.
M12 rotary connector, pre-wired or terminal block connection
E3F2
Cylindrical photoelectric sensors in M18 plastic, brass or stainless steel housings

Large standard portfolio in plastic, brass or stainless steel housings
Long distance types for highest reliability in dirty environments
Radial (90°) types for easy mounting and adjustment
Background suppression model with high precision beam for highest accuracy
AC and DC switching types
Omron E2FM
INDUCTIVE PROXIMITY SENSORS.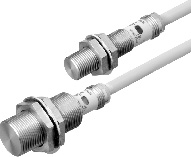 Full body stainless steel housing for highest mechanical protection
Low frequency modulation for metal chip immunity
Flame retardant cable for high protection against welding spatter damage
Omron E2E2
Proximity Sensor with a Long Screw Length
Increased tightening strength. Cable protectors provided as a standard feature.
Increased indicator visibility. A milled section for wrench grip on all models
Available in 2 wire and 3 wire DC and 2 wire AC models.
Shielded and unshielded models.
Omron E2A Series Inductive Promixity Sensors
Extended sensing range inductive sensor in cylindrical brass housing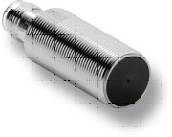 The high quality and the long-life design of the E2A extended sensing distance provide the best value performance ratio for standard applications.
wide portfolio range through modular concept
designed and tested for extra long life
IP67 and IP69k for highest protection in wet environments
continuously high quality level through specialized manufacturing process
DC 3-wire and DC 2-wire models
Normally open (NO), normally closed (NC) and antivalent (NO+NC) models
up to 30mm sensing distance
Stainless steel and brass housings
Pre-wired versions with different cable materials and diameters, M8 and M12 connector types,
10-32VDC supply